Mike69

Mustang Nut

Joined: Sun Oct 22nd, 2017
Posts: 1500
Name: Mike
Occupation: Merchandising
Interests: Vintage Mustangs, RBV's, car shows, & woodworking
Reputation:
Reputation Points: 2695
JAMMAN wrote:
Mike69 wrote:
Today I replaced the antenna lead/cable from the antenna base to the radio (wow what a pain in the butt). Radio stations come in a lot better now. To replace the antenna lead I cut the end that off that plugged into the radio since it was messed up anyway, stripped back some of the outer covering so all that was left was the plastic inner liner & the metal wire & slipped the plastic part into the end of the replacement antenna lead that would plug into the antenna base & duct tapped them together. Then with a long thin screw driver going through the antenna hole in the cowl I popped out the rubber grommet in the firewall & cut it off the old antenna lead. Then taking my time I just fed the replacement antenna lead through the firewall while slowly pulling the old antenna lead out of the hole in the cowl until the replacement antenna lead was into the cowl. I also installed a radio interface that has a audio input, usb port, & the on/off switch that controls the interface. I removed the ash tray assembly & made a face plate to cover the cubbie opening where I installed the usb port, audio input port, & the on/off switch. Here is what it looks like.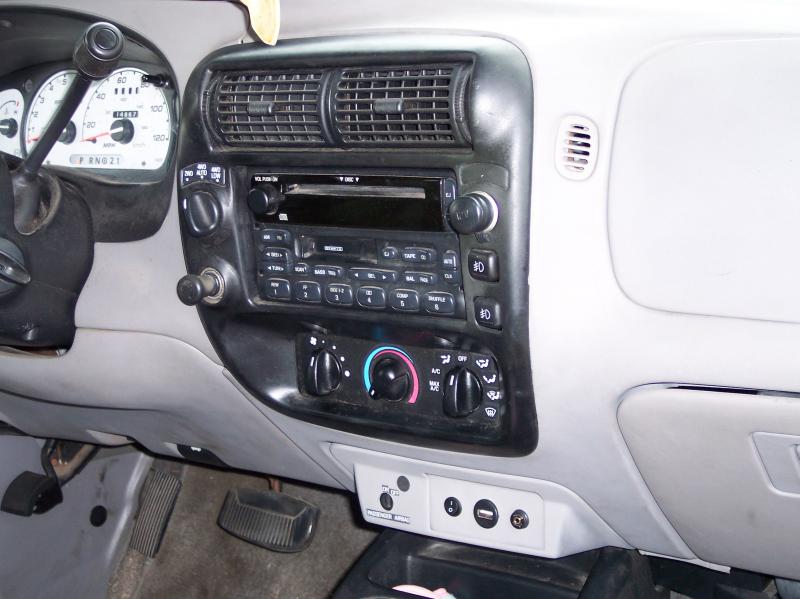 Nice, I dig adding accessories and making them look like they were born there!
Thanks Jim, that is why I used the Explorer radio trim panel when I added the aux lights so I could add a factory switch (thanks to buggman) for the lights in the spot where the rear defroster switch was on the Explorer, so it would look factory.



____________________
08 Escape 4x4(spare)
00 Ranger Extd Cab 4x4 4.0 OHV, Auto(My DD)
99 Explorer Sport 4x4 4.0 SOHC, Auto( Wife's DD)
69 Mustang Coupe 5.0, 5 spd(Project & my future toy)
14 Kawasaki Vulcan (Wife's Toy)
Splitting time between southern NJ & Southern Virginia.