1qaz
Member

Joined: Sun Feb 25th, 2018
Posts: 198
Name:
Occupation:
Interests:
Reputation:
Reputation Points: 1108
Engine

With the transmission out I went after a leaking oil pan and rear main seal.  There's no way I could put a freshly restored oil pan into 30 years of grime and grit so that led to an entire winter full of projects...clutch, flywheel, pilot bearing, frame, engine bay that included exhaust manifold, intake manifold (both upper and lower), fuel injectors, radiator, shroud, fan, valve cover, alternator, air cleaner, throttle body, numerous sensors, and on, and on, and on...  If I had to do it over, I think I'd pull the engine. 

First task was getting after the oil pan, rear main seal, and pilot bearing.  Thirty years of the southwest environment was not kind to them.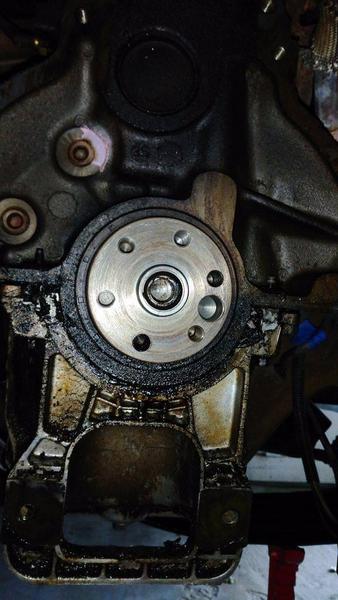 To drop the oil pan you have to raise the engine roughly 2.5 inches to clear the front cross member...you can see the block of wood above the engine mount to the right used to support it.  I didn't really need it as I raised the engine with a hoist hung from the rafters in the garage...but there's no way I wasn't going to put it there (based on the Ford Shop Manual instructions) after all the trouble to get to the oil pan.




Oil pan removed.  What a mess!




The gasket was way past end of life.  It's just crumbled as I removed it.




Rear main seal was only slightly better.




And the surrounding frame was as bad.




While I was in there I replaced the oil pump and pickup tube.




New old stock of course.




Cleaned and restored the oil pan.




Replaced the rear main seal and pilot bearing...using genuine Ford parts.




Cleaned and restored the surrounding frame and cross member and put everything back together.




Will continue the progress with the engine in the next couple entries.

Last edited on Sat May 5th, 2018 07:49 pm by 1qaz