JAMMAN

Owns A Torsen

Joined: Mon Sep 18th, 2017
Posts: 6163
Name: Jim
Occupation: 5 axis cnc programmer
Interests: RBV's
Reputation:
Reputation Points: 9922
I was supposed to make a temperature sensor holder for a radiator hose today, but my wife was following me home yesterday accidentally and said my 3rd brake light wasn't working. Since I have a cool one I decided to install it.

First the original. Never mind the dirty truck it was raining when I left so I didn't wash it.




What I wanted to put in there was a Buggman prototype of the 3rd light with turn signals, 9 super bright LED's with the 2 on the right and 2 on the left separated from the rest for turn signals.




It requires some creative wiring. Being LED's it doesn't require a lot of amperage so I used some 4 conductor alarm wire. Ran it through the light hole and to the left of the driver seat under the molding to where the e-brake pedal is.

I wanted to hit the fuse box.




You could splice this to several different locations, I chose fuses 3 and 7 on the load side. Fuses 3 and 7 are only present on trucks with the tow package, and I figured it added an extra layer of protection if I pinched a wire accidentally during the installation. The fuse would blow before damaging anything else.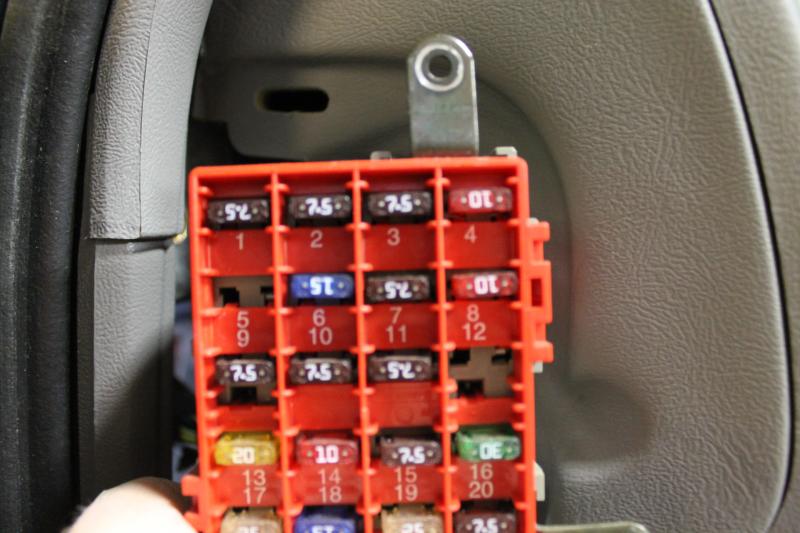 Yellow and dark green wires, they were easy to spot on the back of the fuse panel which comes out rather easily with 3 bolts (torx and hex heads both)




If you don't have the towing package just make sure you hook to the wires coming from the multifunction switch that go to the REAR lights. Hooking to the front you would still get turn signals but you wouldn't get all the lights on during normal braking.




I ended up putting a ring terminal to the parking brake mounting bolt for ground since there are no grounds at the fuse box go figure :)

Subsequent light builds will probably have a common ground and just 2 hot wires for right and left, I'll discuss this with Buggman later.

Here is a video of the result:






____________________
00 XLT 4WD RCSB 3.GO! Jalapeño
01 XLT 2WD RC Steppie 3.0 auto Silver
The future belongs to those who show up.