loomdog32
I like tacos!

Joined: Mon Oct 23rd, 2017
Posts: 173
Name:
Occupation:
Interests: Tacos and Board Games
Reputation:
Reputation Points: 268
The door panels are easy enough to get off. Remove 5 screws, the pull and lift off.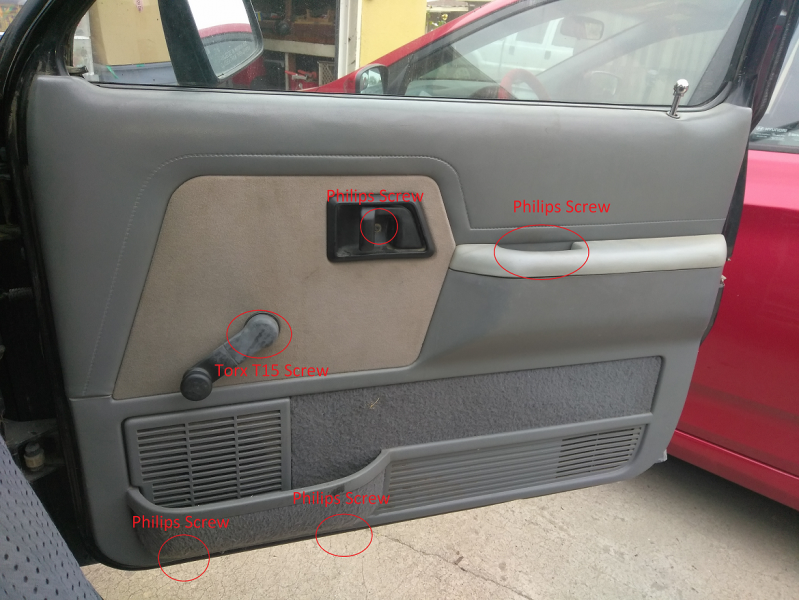 As you can see in the pic, 4 of the screws are Philips ( + Head) and one of them is a T15 (star head).



Here is the screw at the Door Grip. Easy Enough. Down from the top.



Here is the Door Handle. Also Easy to get to.



These ofen get overlooked. They are located at the bottom of the Map Pocket. I assume Ford knew the plastic retaining hooks would break and this area needed extra long term support.



Las but not least the T15 Torx Screw under the Window Crank. The cover pulls off. The screw screws out, then the entire assemble pulls off.



This was my door with the door panel off. I was surprised to see the vapor barrier still in place. Most people like to rip these off. DO NOT DO THAT!! This helps keep moisture out of the vehicle.
The stock speaker was held in place with 3 Philips Screws.



Her is my new Swap Meet Speaker in place. Note- I only used 1 existing screw hole. I needed to drill 3 new holes. I used a 3/16 drill bit, then used screws and connectors provided with the speaker kit.


Wiring these speakers is another matter. Ill make a new thread about that, probably tomorrow (still need to physically wire the speakers, lol).
I was surprised to see the stock speaker in such good shape for a 91. Also surprised to see it was a 5.25" when everything online said it should be 5x7/6x8/6x9... This truck also ONLY has front speakers. NO rears....



____________________
91 Ranger XLT Regular Cab 3.0l v6 A4LD AT 2x4