VelociRanger
I'll probably do it tomorrow

Joined: Mon Jun 25th, 2018
Posts: 716
Reputation:
Reputation Points: 1361
So, to update you guys on today, my friend isnt available today so I couldn't use him, so I called a tow truck and they're all over 200 and I won't have the money for a tow, a new key made (165) and to get insurance to drive my truck, plus bills. The Bill's wouldnt be able to be paid without me getting insurance anyways. So, I called a locksmith to see if they could make a chipped key and 2 guys said they can. The first guy is off today, and the second guy told me that the key wont be the problem and that it's an ignition cylinder issue. Now, I got on autozone and looked up ignition cylinder, and there was 2. This first one looks like it could work, but I'm confused because it says it comes with a coded key, but on the notes it says without transponder key and programming dongle...? Does that mean it comes with a programmed key to start my truck or no...? Sorry if it's a dumb question I'm just confused and frustrated.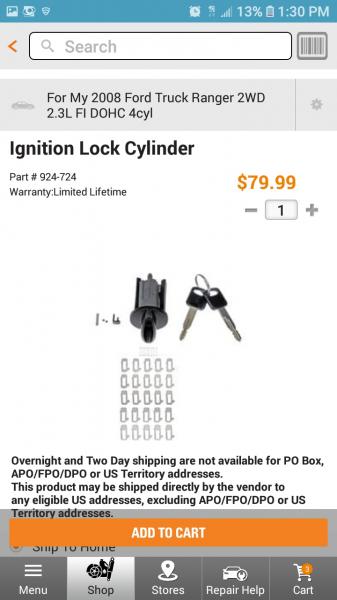 ____________________
knowing when to quit is wisdom, being able to quit is courage.

1983 Ranger, reluctantly taking apart. Donor/project vehicle.

1997 Ranger Ex Cab Manual 4.0 2wd, dead on arrival. Hopefully reviving for a daily driver.

1984 Ranger, currently in ≈861 pieces. She's donating what's salvageable.