MaDMaXX

Hails from the land of rust!

Joined: Sat Oct 21st, 2017
Posts: 1368
Name:
Occupation:
Interests: Motorsport/Firearms/IT
Reputation:
Reputation Points: 2163
Some of you may already know that the seats in my Ranger aren't in the greatest condition. The bolsters are all in good condition, but the seat cover on the drivers side is split, possibly from the PO carrying a knife there as it hasn't worn through, just cut.

Anyway, that's not the only problem, there are numerous cigarette burn holes around the place and the best offer i had was replacing the bolster material at a cost of $100 - the material wouldn't match either.




I saw a 2006 Ranger had just come into the pick n pull a week+ ago, hoping it still had seats, i made it there today, i was expect they'd be the new 2004+material and bucket seats (i have the 60/40 split)
They turned out to be leather, and still a 60/40 split, they were both there and didn't look bad, i couldn't believe it - until i realised the wreck the truck had been in, had caused the frame to bend forward at the top of the drivers seat.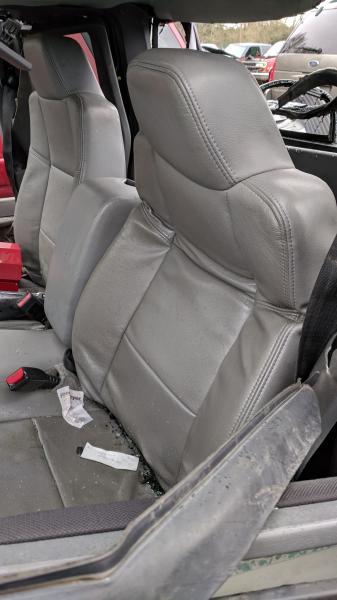 The truck was a mess, but the seats just needed cleaning, i figured i could take the covers off these and put them on mine - found out they were running a special this weekend, and all seats were $15 each!!!
Unbolted them both and took them as is. Vacuumed the glass off after i got them home, but still found glass slithers in my fingers :(



That's quite the bend at the top there.



Fair bit of cleaning to do, but i have experience cleaning leather off, this will come up nicely.



Cover pull off the drivers seat back, i managed to screw up the only 3 hog clips it used :( I'll have to come up with some later.





That last shot shows the frame bend from the back, i don't think this will take too much work to straighten out, if it's easy to remove the seat back from the base, that would be best to get this done.
Right now they're all sitting in my garage, they're sweating out the water they're taken on since this truck was wreck, probably in the last 2 to 3 weeks at most.



____________________
2002 - 3.0 - 4x2 - Edge

Upgrades/Maintenance log