410customs

Idahome

Joined: Wed May 2nd, 2018
Posts: 2159
Name: Jamie
Occupation: Elevator Design Worlds Tallest Buildings
Interests: Ranger Based Vehicles and OFFROAD
Reputation:
Reputation Points: 5459
Dewalt makes several 1/2" drive impacts, this one is the big 20V unit can remove nuts that are up to 1300 ft lbs! So far so good, it makes short work of even Superduty lug nuts and it had no issue with an Explorer CV axle nut! This is good news because those CV axle nuts are a PITA.

My shop is a teaching shop, we do lots of hands on stuff if customers want to learn.

The Sport trac "conversion" portion has begun.
The donor explorer was an early 98. This means the 5.0 has welded exhaust manifolds, the crappy fluid to fluid oil cooler, and it has return style fuel (two fuel lines).

First the donor 98 was put back together, the bad sohc engine was placed under the hood and the front clip bolted back on, this makes it easier to go on the trailer for crushing



Cast exhaust manifolds, they are very restrictive power wise and known to crack and develop leaks



Lower radiator hose / factory oil cooler. When these fail you mix water with oil. The 99+ trucks did not have this, instead they use a one piece lower radiator hose and a special oil filter mount. We will be using the 99 style mount and hose.



96-97.5 5.0L has two fuel lines (return style fuel) 



Best part, Ford reman transmission!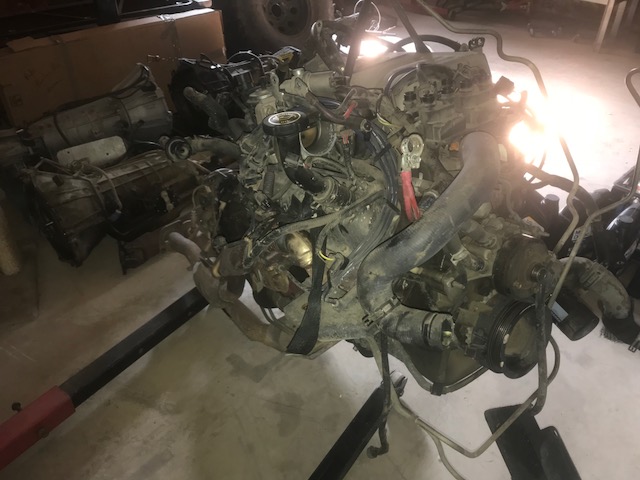 We will be swapping the manifolds to the later cast style.
We will be removing the oil filter / oil cooler and using the 99-01 style oil filter mount

The sport trac in 2001 (first year) uses returnless fuel
We will be using a 2001 style fuel rail and injectors.
I prefer returnless fuel as the fuel in the tank stays much cooler and this makes more power and better MPG

Next step is to detail the engine bay and clean the 5.0L drivetrain. The engine will be separated from the trans, engine put on a stand and refreshed with new gaskets and tune up parts. The transmission and converter will be drained 100% and fitted with a new filter.

Did I mention this donor drivetrain with only 104K miles also has a FORD REMAN 4r70w?! Yes sir at some point the 98 trans was replaced by Ford. In 1998 the 4r70w had a return program, if something failed early ford wanted to know about it and often times they would replace the whole trans just so they could have a look inside your 98 style 4r70w. This truck appears to be a lucky recipient of a newer 4r70w!

Did I mention I love the Sport Trac? Did I tell you that 2001 and white are my favorite?!?! Man I wish I could keep this thing. But I would have to give up my Bronco II I just cannot justify having that many vehicles.

Last edited on Thu Aug 16th, 2018 09:26 am by 410customs



____________________
I build custom RBV, specializing in drivetrain conversions, wiring, suspension and complete custom trucks