JAMMAN

Owns A Torsen

Joined: Mon Sep 18th, 2017
Posts: 5830
Name: Jim
Occupation: 5 axis cnc programmer
Interests: RBV's
Reputation:
Reputation Points: 9459
IF you own a V6 gas Ranger, regardless of the year or the engine size they have a lot of things in common and just a few differences.

All V6 Rangers have the same firing order, yes the 2.9, 3.0 and 4.0 of all years. The firing order is 1-4-2-5-3-6.

If you are looking under the hood from the front grill, on your left side are cylinders 1, 2 and 3 in that order and on the right side you have 4, 5 and 6 in that order. Cylinders 3 and 6 are closest to the firewall, cylinders 1 and 4 are closest to the front of the truck where you are standing.




In the early distributor motors the rotor turns clockwise looking at the top, it should point at #1 wire about where the compression stroke is on cylinder #1 and from there clockwise 4-2-5-3-6 should follow in that order.

Then comes electronic ignition :).

From around 1990 to 2011 in the USA the V6 ranger only used 2 different coils. It is unclear why there were 2, if you know what they do you can interchange them but do not try until you have read the entire article. There are coils with the socket for the plug point upward (referred to as vertical) and some pointing outward on the side (referred to as horizontal). The safest way if you are unclear is to buy the one pointed in the same direction that came off your truck. HOWEVER the horizontals are usually easier to find than the verticals, there must have been more of them produced. Supply meets demand.

The simple electrical diagram for the coil is below, it is meant to show more what the coil does than specific wiring but even if you don't normally read schematics it makes perfect sense: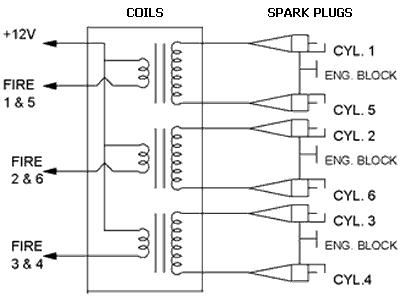 So yes, every plug fires twice as often as it needs to. 3 and 4 fire at the same time always, 2 and 6 fire at the same time, 1 and 5 fire at the same time.

Looking at the coil, you will see 3 rows of 2 sockets each, the horizontal is shown here:




There are only 3 coils in this pack. Look at the numbers compared to the schematic above.
If they reach you can take the plug wires off the coil and exchange 3 with 4, and/or 2 with 6 and/or 1 with 5 with no adverse effects to the motor running. The wires might not reach the other location but if it does it will still run.

Here's where it gets tricky... this is the vertical plug coil:




At first glance you say "hey all the wires are in the same place!" but look at where the plug goes in. The "IGN START/RUN" is on the same side of the tab in both coils BUT the "CD2 and CD1" are inverted in the pin order with CD3 being in the same place on both plugs.

Ford threw a wrench in to this too! Here is why.. (read carefully) CD3 actually is the connection to fire the center 2 sockets labeled 2 and 6. You would think since it is labeled CD3 it would go to 3 but it does not.

So does CD1 go to 1 and 5 or does CD2 go to 1 and 5 in the diagram? Honestly I have no idea! I will cut one open eventually but for swapping purposes it doesn't matter.

For either coil the middle 2 spark plug wires remain the same. If you removed a vertical plug coil from your V6 and put a horizontal plug coil on out of necessity or lack of availability, you take the spark plug wires that are on 1 and 5 and switch them with the ones on 3 and 4.

In the other direction if you have a horizontal plug coil and all you can find at the scrap yard is a vertical style to replace it with... you take the spark plug wires that are on 1 and 5 and switch them with the ones on 3 and 4. Same exact thing!

If anyone knows for sure which 2 CD1 and CD2 goes to please add to this thread. The first truly blown one I come across I will cut it in half and know for sure.

So there you have it, this is not theoretical I actually did this and it does indeed work. ;)



____________________
Truth sounds like hate for those who hate truth.
Let's Go Brandon!
00 XLT 4WD RCSB 3.GO! Jalapeño
01 XLT 2WD RC Steppie 3.0 auto Silver