Undrstm8ed
Seasoned...

Joined: Sat Oct 21st, 2017
Posts: 1257
Name:
Occupation:
Interests: Life, Experiences, and adventures.
Reputation:
Reputation Points: 1892
This is a rewrite of a L O N G build page from another site that since my start of has acquired 15,187 views up to this point as of today's date and has taken me on many small adventures and experiences; to me that is living life through a hobby.


So to start:


When I first made my purchase, she was a dirty 1993 Ford Ranger XLT with a standard cab, 4.0L Manual trans and 2WD Virgin.., shy of the bunk audio gear the previous owner stuffed in it. No armrest console/center seat back, no OEM jack... SOLD as is


The short lived transformation of a street truck turned to a much better and more functional vehicle on several levels. As someone into camping a lot, new places to visit, fishing and firearms, a self-proclaimed survivalist on an urban or even open land aspect; it only made sense that a multi-purpose vehicle with overlanding/expeditionary capabilities and good sustainable attributes should take root.. [Trail Camping & Adventures]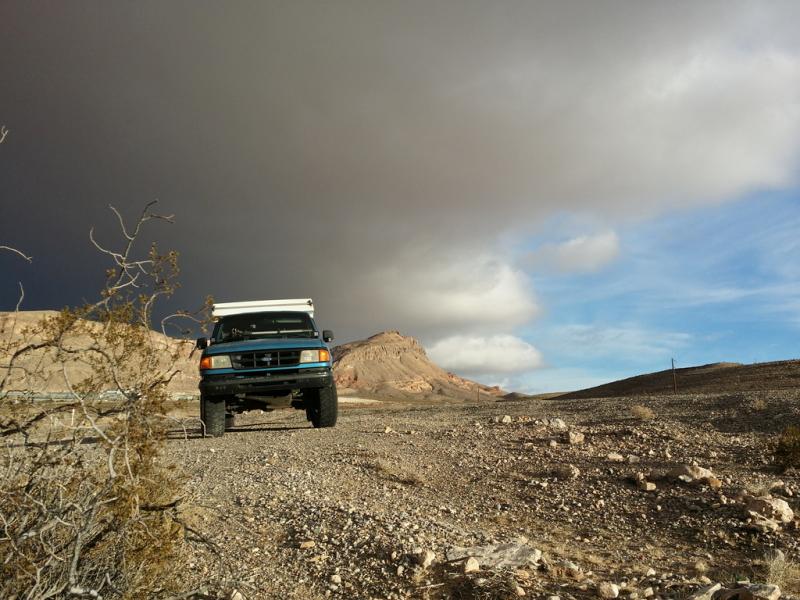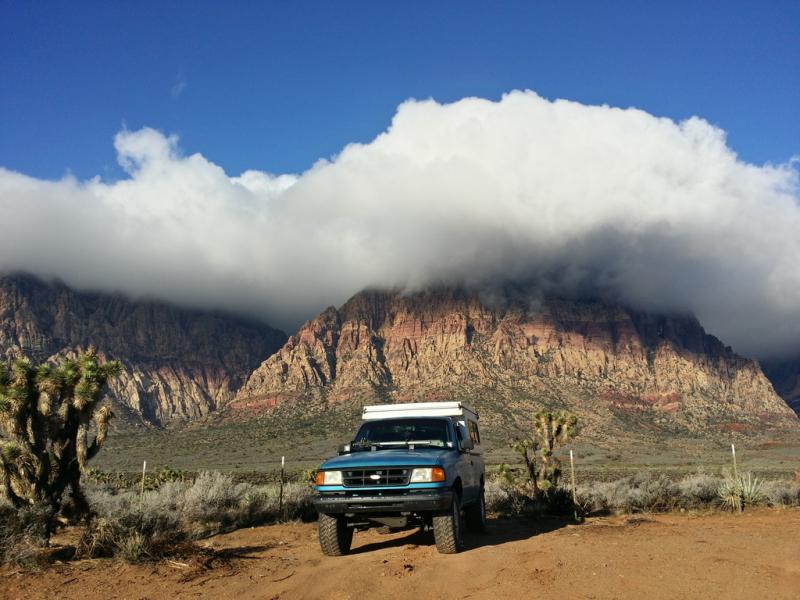 ABOUT THE PRODUCTS
The products I use are generally multi-purposeful, of middle to middle upper end quality, most of which have been supplied or installed by one of two of my trucks current sponsors.., Myself and 12° North, Industries which has been generously helpful.., Located in Las Vegas, Nevada. I only use the products that fits the needs and the means of the situations I create with the rig and those associated with it..

NOTE:: "Generally it's against most forum policies to engage in outright site commerce without permissions from the Administration" so that we are CLEAR; it is not my goal to sell anything here by this Thread. My goal here is to showcase what has been done to a 24 yr old truck which lost its manufacturing platform leadership in 2011. It is also my intention to spark up ideas and or conversations of the How, what and why the truck is set up the way it is.

The best part is it's not a Brand NEW $55,000 something dollar vehicle being shod with another $20k in shiny parts to become the latest "Billboard-Mall-Crawler". I'm not a Youtube showcase. Just a man doing my thing cause I can. There is a personal and master goal at work here, a overly thought out theme, and well defined purpose, with much ingenuity & creativity behind it all.

Like what you see so far? Come join myself and others as we evolve on our journeys.
> Curious about the process and adventures I take this on?
> Have any questions in regards to the products I use?
> Subscribe to my thread(s), say hello and let's meet on the trails!



MODEL:
93' Ford Ranger XLT


DRIVETRAIN:
4.0 Liter V6 OHV
5 Speed Manual
Rear Diff: 3.73, Open


FRONT SUSPENSION:
Daystar 2" Leveling kit
Stock 2WD Coils
Fox 2.5 Smooth Body Shocks/External reservoir-CD Adjuster (Not Installed yet due to Suspension changes)


REAR SUSPENSION:
Universal Group HD Leaf Pack (1750lb – 1.7" of lift)
Deaver 10" U-bolts
Fox 2.0 Smooth Body Shocks/External reservoir (Not Installed yet due to suspension changes)


WHEELS / TIRES:
17x8.0 02'-05' Ford Explorer AWD Takeoffs
LTS 265/70/17 Hancook Dynapro MT (32" 10 ply tires)
Bronson 1.25" spacers (front/rear)
Hawk Brake Pads - Frt. LTS HB279Y.594 / Rr. Stock 10" Shoes


ARMOR/PROTECTIVE GEAR:
26oz of Ride-On Auto Tire Sealant/Balancing Fluid ea. tire


VEHICLE:
12° North, Ind. Custom Big 3 Wiring Upgrade [Battery(s), Alt, Starter, & Grounds]
12° North, Ind. Custom Jumper Cables
Performance Accessories (Daystar) 2" Body Lift Kit
BoltLock(s) (keeping gear secure)
Hi Lift curved bumper attachment
ARB Breather kit (for rear diff and Trans, plumbed for front diff)
AVS Ventshades (Front Windows)
Spare fluids: 1gal Antifreeze, 1gal Mobil1 oil/filter, 1 lrg bottle brake fluid, 2qts ATF Mercon IV
Spare Parts: Serpentine belt, 1 upper/lower rad hose, 1 upper/lower ball joint, misc fuses, screws & bolts, cable ties, scrap wire, etc…


PERFORMANCE:
K&N OEM box style filter [modified]
Flow Master 40 Custom Cat-back W/downturn before axle
NGK Wires
NGK Iridium plugs
Mishimoto 2 row HD Radiator
Volvo 940T E-Fan upgrade w/2 speed fan [OEM Clutch Fan Delete]


INTERIOR TRUCK:
Coolgear 12v USB Charging Hub – 7 USB Port
Birdawg Industries Rear view Mirror Riser & Toyota Dovetail Mirror Bracket
LED bulb dash lights upgrade
OHC (Overhead Console w/dual lighting mirrors, compass/temp, from Explorer Sport)
First aid kit (Medium kit behind passenger seat)
Charging Station for StreamLight Srion LED


INTERIOR FLIP-PAC/BED: Flip-Pac Specs
Fire extinguisher 4lb
First Responder Field Trauma Kit
Std Shovel held in place with Quick-Fists
Charging Station for StreamLight Stinger LED HL
Charging Station for GoPro Cameras
Custom fold up Desk with power access


RECOVERY:
Hi-Lift Extreme Jack
ARB Snatch-Strap 30' @1
ARB Snatch-Strap 20' @2
Warn Snatch Blocks @2
Rugged Ridge D-Ring Shackles [ @4]
ARB Quick deflator Air Gauge
ARB Tire repair Kit
Full Size Spade Shovel
Zippo 4 in 1 Woodsman Axe/saw


OVERLAND GEAR:
Flip-Pac shell with options
Road Shower II (Currently Not Installed)
TOTE: (a) His
Sleeping bag [Can compression zip to TOTE b bag]
Queen Sized Pillow/Blanket
2 Person Military Ground Tent
7 x 10 Tarp
TOTE: (b) Hers
Sleeping bag [Can compression zip to TOTE a bag]
Queen Sized Pillow/Blanket
2 Person Military Ground Tent
7 x 10 Tarp
TOTE: (c)
Calif-King Electric Blanket
Reserve stove fuel
Stanley Base-Camp Pots & Pan Kit (1 set)
Stanley Camp Coffee Pot & Cups (1 Set)
Waterproof Case (Spare AA, AAA Batteries)
Waterproof Case (Reg & Canvas Sewing kit)
TOTE: (d)
Dry Foods; Ready-made meals
Cereals, pretzels, pastas, rice
Dried fruits, soup mixes
Water, tea, instant coffee
Foods (Other)
2 – 72 Hour Bags W/1.6L Camel Bacs [Contents in a later update]
Maluna Cooler - Unhinged 50 (Shark Gray)


RESERVE POWER:
National Luna Smart Dual Battery Isolator w/monitoring
1 @ Exide Flat Plate AGM Group 65 [Main Starting]
2 @ Exide Flat Plate AGM Mega-cycle 200 [Reserve capacity]


LIGHTING:
12° North, Ind. Hood light kit
12° North, Ind. Camper Shell light kit
Flip-Pac LED upgrades 5w Red frt/7w white rear
GG Lighting LED 40" SRS [Forward Facing Roof] (Not Installed yet)
GG Lighting LED 2x2 Cubes @ 4 [Pillar/Ditch lighting]
GG Lighting LED 2x2 Flush mount @ 1[Reverse Light]
GG Lighting LED 20" SRS [Forward Facing Bumper Mounted]
StreamLight Stinger LED HL
StreamLight Srion LED


COMMUNICATIONS:
Uniden CMX560 Citizens Band Radio
Midland MXT105 Micromobile 2-way radio


NAVIGATION:
US Topo Maps App [Samsung Galaxy Tab3 7.0]
Commenga Military Compass
Folding Maps/Protractor


RADIO/AUDIO:
Alutek Bluetooth/RCA Module
Samsung Galaxy Tab3 7.0 / 17.1GB music, Pandora, Spotify, etc
Q-Forms kick panels 5.25Midrange / 1" Tweet (Temporarily Removed)
7" Midbass Factory door locations (Temporarily Removed)
One 8" Diamond Audio CM3 Subwoofer (Temporarily Removed)
Audio Control EQL (Temporarily Removed)
ARC Audio XDi850.5 Amp (85w x 4, 400w x 1, 740 watts total) (Temporarily Removed)
AudioQuest Diamond RCA [1 @ 4m pair, 2 @ 1.5m pairs]
AudioQuest Type II - IV Speaker cables


LAPTOP:
HP Pavilion dv6


CAMERAS:
GoPro Hero III (x2)


FUTURE MODS:
- Max Trax Vehicle Extraction device (need 2 pair)
- iCOM ID-5100a
- 12° North, Industries. Bed Drawer 5.5 ft of the, Bed 10" Height
- 12° North, Industries. Multi-carrier bumper (Receiver hitch style, shackle mnts.)
- 12° North, Industries. Front bumper (full grill/light hoop, push pads, shackle mnts, winch mnt)
- 12° North, Industries. Fuel Tank Skid-Plate
- 12° North, Industries. Transfer-Case Skid-Plate
- 12° North, Industries. Transmission Skid-Plate
- 12° North, Industries. Oil Pan Skid-Plate
- Rocky-Road Rock-Sliders/Rails
- Warn 9.5xp-s Winch
- Factor 55 Flatlink and Fairlead
- ARB Fridge Freezer 63Qt and Slide out
- ARB CKMA12 Air Compressor
- Spyder Automotive LED tail lights (93-05 version Smoked, red-clear only, hardwired clears as turn signals with amber LED bulbs)
- 5 Lug to 6 Lug Conversion
- Addition of Power Inverter with Solar Controller [Completes E-panel and gain DC/AC pwr]
- Reinstall/Finish audio system


And the list goes on…!





Last edited on Tue Oct 24th, 2017 03:59 pm by Undrstm8ed



____________________
"Be never first, never last and never noticed." - Unknown

"The slave is held most securely when he is held by the chains of his own will and of his own fears, and when he is locked down by his own slavish desires for a comfortable life." - Michael Bunker

"Mundus vult decipi, ergo decipiatur. Mundus vult decipi, ergo decipiatur" - ~ attributed to Petronius (Gaius Petronius Arbiter (ca. 27–66 AD))
Roman courtier during the reign of Nero.

"Those who expect to reap the blessings of freedom, must, like men, undergo the fatigue of supporting it." - Thomas Paine


~ Undrstm8ed Truckumentry Write Up Pg.

~ Undrstm8ed Trailermentry Write Up Pg.
.