Kealel
Certified Ranger Nutjob

Joined: Sat Oct 21st, 2017
Posts: 171
Name: Keegan
Occupation:
Interests: Rangers. Duh.
Reputation:
Reputation Points: 351
I've been here since pretty much the start of this forum, yet for some reason have not yet started a build thread... So I guess I'll try to catch y'all up to speed on what has happened in the past few years!


Bought her on 6/18/2015, didn't see her in person until a week later. Nothing stresses you out more than buying a manual transmission car sight unseen as your only vehicle and not knowing how to drive stick... I learned fast!


Lets get a few details out now... River is a Sonic Blue, regular cab, 4x2, manual trans, 3.0 powered, EDGE packaged truck.


So lets get some photos up of right after buying her:







Now, if you've seen me around before, you can already tell there has been a lot of major changes done. The mods actually started getting planned since before I even saw her. That means that in the first week of owning a truck I could not drive I was already planning on how to spend money on it.


First obviously was to swap the seats out. Why? Because earlier that year due to terrible drivers in the Detroit Metro area I had to say goodbye to my 2006 Ranger before I was ready to. Some of the parts I kept were the seats.


Now, these seats didn't happen right away... Nothing did. I saw the truck for a day, then left with my friends on a week long road trip to Texas to celebrate the 4th of July! Now, if you are counting, that is 2 weeks away from a truck that I am continuously buying parts for, can not drive, and have seen in person a total of less than 10 hours. But that is how I live my life and obviously it has not come back to bite me yet!


Fast forward. My friends and I are back to my house finally, and we are seat swapping, car washing, and battery shopping!







Unpictured: also swapped in my old radio from my 06, put in a new battery, and tried to swap out the steering wheel and failed.

A little after that I got my hands on a vinyl cutter and made some decals, and swapped in the 3rd brake light from my 2006.







a few minor changes here and there, plastidipped the grille, think I put on new fog lights by now, swapped in my first of many clusters (a white one), and put Ford logos over the Jeep ones on the rims.






That picture wants to upload upside down. I don't want to argue with it. Just like how Earth has rivers that flow backwards, this River will remain upside down.


Movin along... Just found a picture of my radio setup.







Now River is F*** sideways... Forget it. She's always been a pain. I can live with it so can you.


Next I "re" badged her. The PO removed all the badges, I put them back on.






First time I towed a "Geo Metro" and exceeded the tow rating:








I hope y'all like upside down pictures as much as this site thinks you do. My next posts will get better, I swear!


Repainted the black on the rims with one of my friends:








Next I swapped on some body color 06+ mirrors. However, to be different, I made them completely body colored!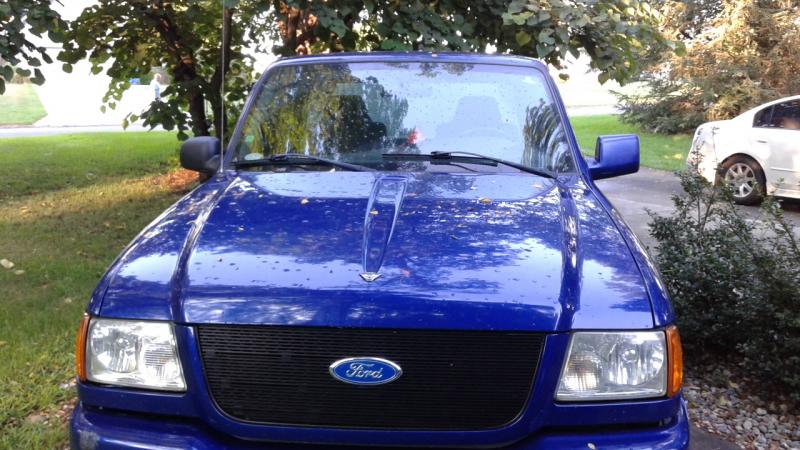 At the same time I replaced the door panels with XLT ones with pockets.







One of my many cluster installs:







After a bad accident with a friends car, while waiting for a rescue I found a silver hubcap on the side of the road. I took it home and for the first time started to want silver rims.







Got bored one day, stuck a Ranger Emblem on my grille, didn't ever remove it.







One day I decided enough was enough. Took the topper off and never looked back.







Without a topper and a toolbox though, I realized I had no place for my tools, I had to ride around like this for a while and trust people (who in turn stole nothing)







Ever drive from your apartment to a drive through because your roomate is too lazy to get off the couch? I have.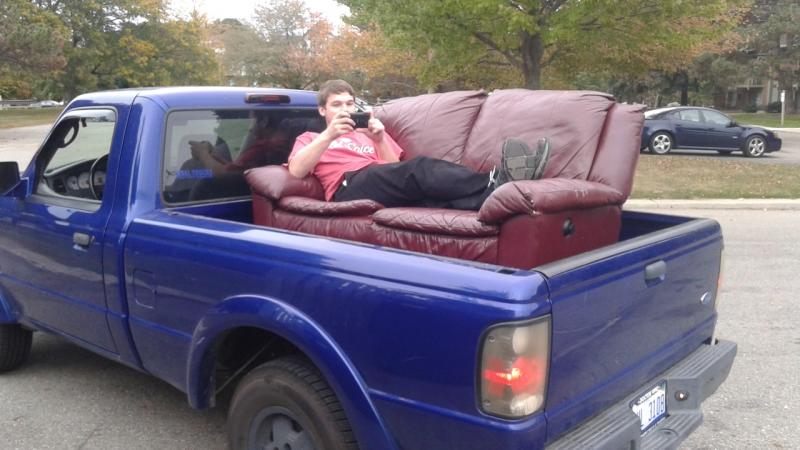 Eventually more decals showed up one stuck around, one did not.






Next up was a silver HVAC with carbon fiber knobs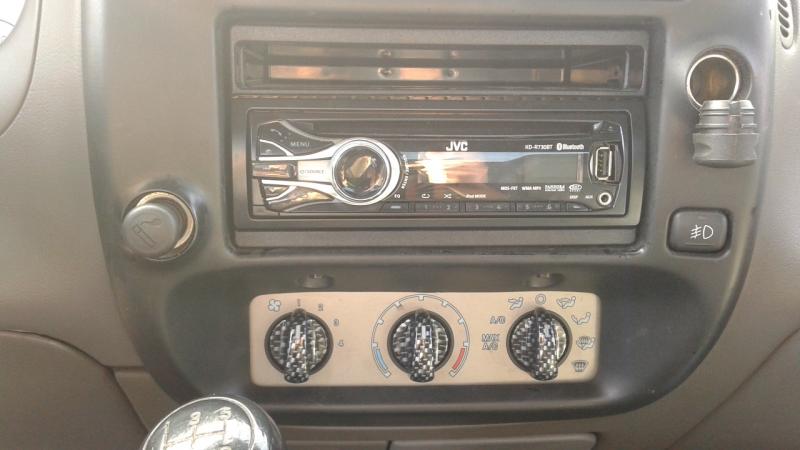 Next came a bad throwout bearing. To the shop she went.







Then Christmas of 2015 came around... I had never gotten a present addressed to my truck until then!







Started off the new year of 2016 with a bang... one of my favorite clusters!






Skip a few cluster installs and tweaking to get it right (did I mention I bought the truck with an electrical bug? Never completely fixed it but now I can at least control it) and I find this at the junkyard. Yep, time to toss the white clusters... Or maybe not!








The cluster was so dirty it needed a deep clean... Then I started to modify it and didn't stop...











I also put on OEM tails and took some nice photos.







Skip a few months, the silver paperweight is ready!







Creatively hid the rust on my tailgate:








Another thing I wanted for a while was finally achieved... 06 Emblems with back lights!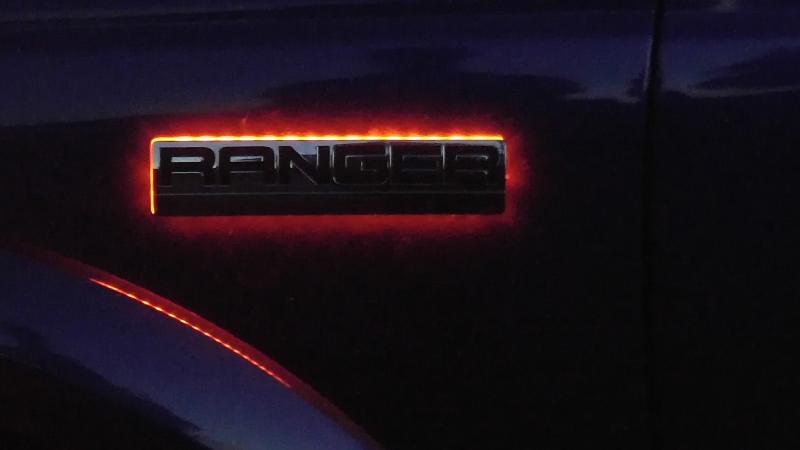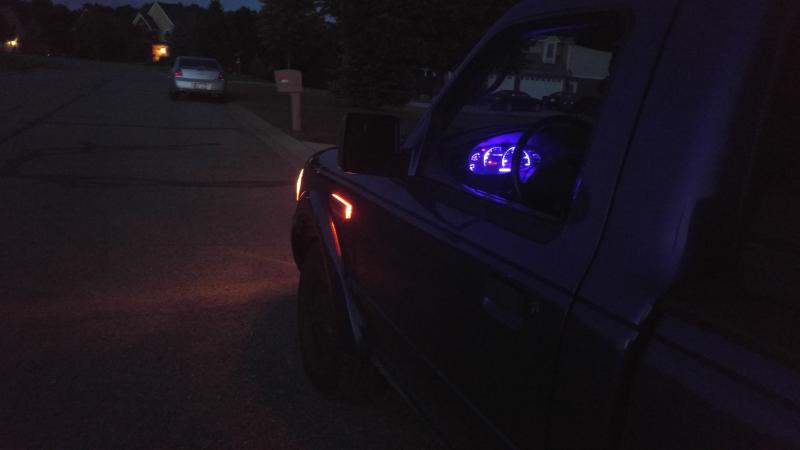 Next up was new rims, finally found the aluminium rims I was looking for from a member close by!









Soon after the front drivers wheel came off when I hit a water "pond" in the middle of the road at 45. It beat up the rim but I jacked the truck up, mounted it on, and drove on.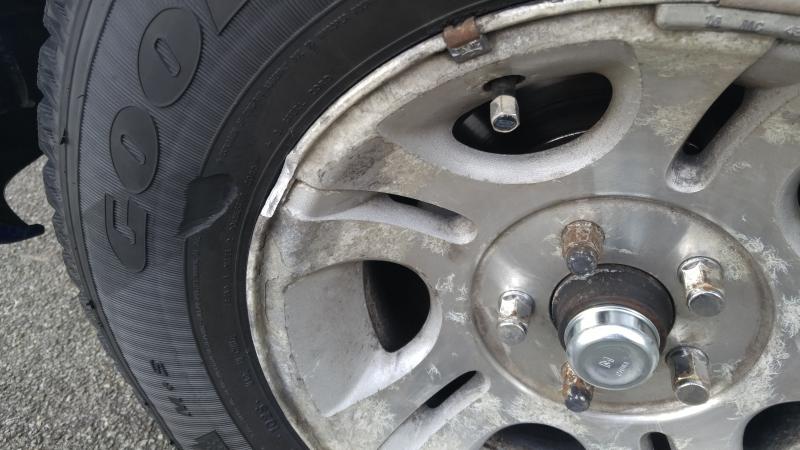 Now we are up to August 2016, when I get 06+ tails finally.







After much waiting and searching, I got myself a set of Level 2 hooks. Sure they were from an 05, but still, I had tow hooks! (also ignore the fact they were on the wrong sides... I was new at this)









Shortly after (I think 2 days) I got some new tires (BFG KO2 31") so I had to take some pictures!







Then, 8 days after the year anniversary of my throw out bearing going out for the first time, it went out again. back to the shop I go.







About a month later I accidentally found something I didn't know I needed in the junkyard...







That picture looks way better not upside down but oh well



January 2017 I had way too much fun...







Later that month, in went the very first thing I purchased for her... a Leather steering wheel from Texas!







Then, in April I swapped out my shift lever for one I modified to accept threaded knobs with a Mazda3 shift knob on it.







In May, I upgraded to 2007+ Sun visors









June 2017. This is where it all gets good. I got a call from a buddy on the other side of the state telling me I had to get over there ASAP. He found a 2007 Level 2 in the junkyard and while it was stripped of most everything, it had the rear axle. So naturally I head out the next day to grab it!







Now at this point I let another friend know I am in town and as he is having car issues I stick around and help him out for a few days until his car is golden again. Did I mention I dropped what I was doing to pick the axle up? That's why my front valence is off - I was fixing some issues I had with it and left it in the garage when I left.







Long story short I spent way more than I expected to on the axle because I restored the axle to better than new condition with disc brakes and an anti sway bar but it was all worth it. I'm not going to go into detail right now about what all I did to that axle but if you want to know feel free to ask and i'll write a whole post specifically on it.







Just a few days after the axle swap I tell myself I am done spending money on this truck as I already spent too much as it is. Nope. Bought a nice Honeycomb grille.







Fast forward a little bit more... Towing home "Geo Metro #2" the tow dolly breaks! not a huge deal, fix it in an hour and I am back on my way. Thanks to that parts truck I got a lot of great items but the best by far was the toolbox. My plastic one was sagging bad and this metal one has all sorts of emergency flashers built in!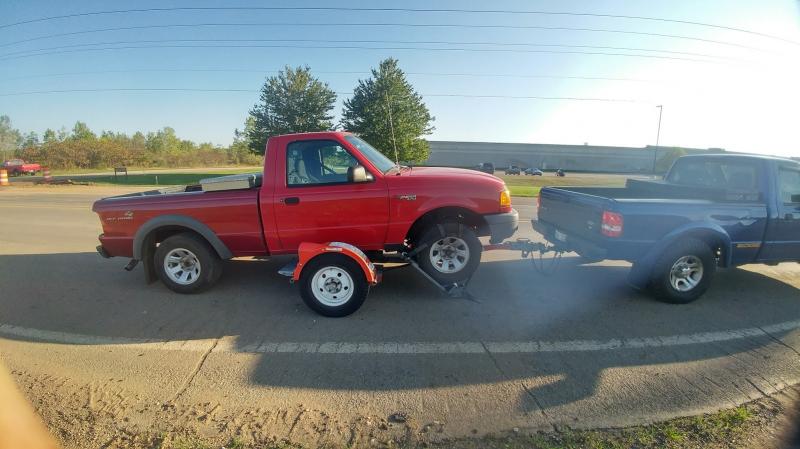 And finally... "Geo Metro #3". Honestly, I am surprised U-Haul keeps renting to me. Anyways, this is my 4x4 Donor. My Dash with all options donor. My power doors donor. And maybe even a little more.










My biggest project yet is underway, stay tuned as next week will have some cool things added - some have not yet been discussed but here is a hint... what seems to reoccur in my build? Clusters.

Last edited on Thu Nov 30th, 2017 05:19 am by Kealel



____________________
Past:
Baby Girl: 2006 XL 3.0 ~RIP~ 1/26/2015

Current:
Penguin: 2002 XLT 3.SLOW 4x2

River/Kaitlyn: 2003 EDGE 3.GO! 4x2... For now?
~Aspiring Mini Level 2~