Jimmyspy
Shadetree Mechanic

Joined: Fri Oct 27th, 2017
Posts: 114
Name: Jimmy
Occupation: Engineering Student
Interests: Truck Stuff
Reputation:
Reputation Points: 279
So this past weekend, after being "in progress" for damn near 6 months, I finally finished up the bumper project....   almost.   Haha.    Still need to mount a jerry can, wire the lights, and touch up some paint, but I'm calling it done.   It was quite an adventure, and I'm super happy with how it turned out (there are a couple flaws that are gonna bug me, but we're getting over them. Haha)

It was a busy weekend, so I didn't get many pictures.







I also replaced the power steering rack over the weekend (one of the reasons why it was so busy). What a complete PITA that was. Speaking as en engineer, whoever designed that front crossmember shouldn't be allowed to make decisions anymore. Removing the old rack and pinion is damn near impossible, as the mounting bushings need to be removed (yea, it's that tight) in order to free up the space required to rotate the rack. That's all well and fine, but after 16 years in norther Ohio, those bushings didn't want to be removed. After trying every combination of finess, brute force, and cursing that I could think of (and taking a power steering fluid bath in the process), I broke out the angle grinder and cut off the old bushings and inner tie rods. This made removal much easier. Finding replacement bushings for a ranger is damn near impossible, but thankfully bushings for a 2001 Explorer sport work just as well (and are available at autozone).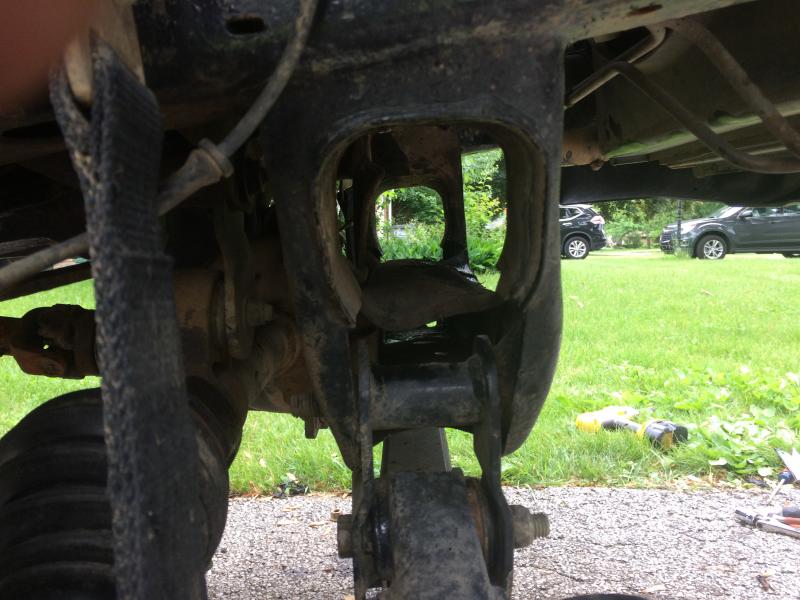 New power steering rack. I went with an AC Delco reman from rockauto. For some reason, getting the new rack back in the truck was wayyyy easier than getting the old rack out (probably because it wasn't cover in rust, dirt, and power steering fluid)




While removing the old rack, I discovered that the power steering pump was shot as well. The output shaft had almost 1/4" of in/out play. So, we replaced that too, along with the pressure and return lines.





Didn't get any pics, but I also replaced the passenger side wheel hub. It had some play in it, and I already had the truck torn apart.



So that was my weekend.  Haha.   I still need to replace a the rear driveshaft (slip joint is shot) and the transfer case (front output shaft bearings are toast. If you're counting, this will be my third tcase) and I should be done working on this turd for awhile. Lol.



____________________
2002 XLT 4x4, 4.0l V6, Silver Frost Metalic, Superlifted and stuff