MaDMaXX

Hails from the land of rust!

Joined: Sat Oct 21st, 2017
Posts: 1368
Name:
Occupation:
Interests: Motorsport/Firearms/IT
Reputation:
Reputation Points: 2163
Alright, so the welding that was going on in the wheel video (above) was for the exhaust - let me show you how ridiculous the cats are on the '02.

This is 5 (five) cats in total, 3 pre-cats and two main cats.






Here are all 3 pre cats, right up to the engine, best place for pre-cats, worst place for the engine.







Oooh, plasma cutters are cool....







Pre-cats appear fine, so no reason to think they're causing issues






Mocked up with regular pipe





Some tack welds and final welding after taking it off again







Slight issue with a gap that wasn't there in the test fit, oh well, fill with weld :) (see the upper joint on the right of the picture)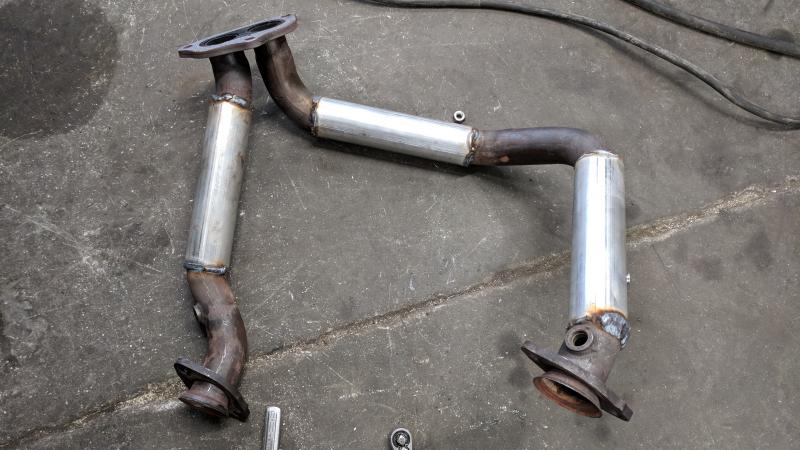 That didn't fit, no idea how it got that over extended joint,m so it was cut and welded straight again.


Now for the ~22inch muffler at the back - with essentially 5 cats on the system, it doesn't need that muffler, so i had elected to remove it










Now those of you who have been keeping count, will have realised that 5 cats and a muffler, subtract 1 muffler, does *NOT* equal 5 cats and no muffler, if you *ALSO* removed 3 cats as well.


Short version, it's not really too loud, but it does sound like a hole in the exhaust :(
It really doesn't help that we missed this pipe being a little too close to the frame rail, and that on the way home, it settled further and now sounds really bad.









____________________
2002 - 3.0 - 4x2 - Edge

Upgrades/Maintenance log