Dreaded sled
"tHe LOwLiFE"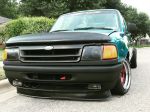 Joined: Tue Nov 28th, 2017
Posts: 260
Name: Mike
Occupation: Mechanic / fabricating
Interests: fab,build,drift,repeat ....
Reputation:
Reputation Points: 1065
mhoward wrote:
Well, I liked the music portion... but there were 3 distinct parts of the video I didn't quite understand: the beginning, the middle and the end. LOL I guess at almost 62 years old, the meaning is just lost on me. But, the song itself was actually quite enjoyable and relaxing!
Here's that brotha 🍻



____________________
A truly educated man never graduates.
94 flatbed 5.0 t5 powered w/ a expo rear ,sideways kickin dd
87 rx7 13b 6port mounted to a holset hx52 turbo , scary 😈
08 tbss cam'd and slammed, wife's weekend warrior queen
18 Alfa Giulia , wife's new fancy dd
17 Alfa Romeo Giulia Quadrifoglio . Our date night ride