Jason
Member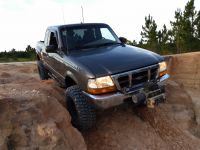 Joined: Tue Aug 14th, 2018
Posts: 8
Name: Jason
Occupation: Property Appraiser
Interests: Wheeling, Camping, Shooting, Fishing, Mtn Biking
Reputation:
Reputation Points: 58
Hello all, I am not as active on forums as I used to be but enjoy browsing and offering help when I can. I have a 2000 Ford Ranger. It has a 3.0, 5 speed and is 4wd. The work I've put into it has been off road capability related. It is a toy and is typically used for yard work and off road or camping trips. 

It has 4.10 gears, a front lunchbox locker made by Lokka, limit straps, RCI front and transfer case skid plates, stock gas tank skid plate, custom front receiver with a smittybilt winch, custom tire carrier that goes in the rear hitch, fx4lv2 rear tow hook, 33x12.50 km2's and cragar 15x8 wheels.